Ken McEwan, Q.C.
*
Partner
*Practicing through a law corporation.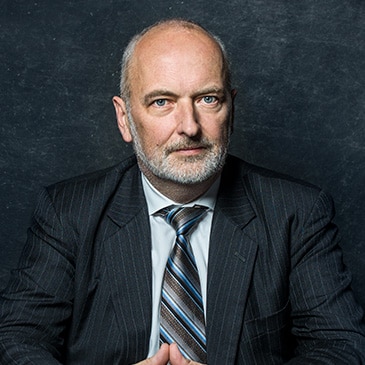 Biography
Ken McEwan practices as general counsel focusing on complex corporate-commercial litigation, class action litigation, commercial arbitration and administrative law at the trial and appellate levels, including the Supreme Court of Canada. He received the designation of Queen's Counsel from the Attorney General of British Columbia in 2004. Martindale-Hubbell has given Ken a ranking AV-Preeminent.
In 2018, Chambers Canada ranked Ken in Band 1 for dispute resolution noting "he recently left Hunter Litigation Chambers to establish McEwan Partners, and enjoys a stellar reputation … interviewees say he is "absolutely spectacular," describing him as "incredibly detail-orientated" and "very talented." In 2018, Benchmark Canada recognized Ken as British Columbia litigator of the year, a distinction he has held for five of the past six years.  In 2017, Benchmark named Ken one of the top 50 trial lawyers in Canada.  Ken has been named in Lexpert's 2018 Guide to the leading 100 U.S./Canada cross-border litigators, as well as being named in the 2018 Lexpert/American Lawyer Guide to the Leading 500 Lawyers in Canada. He is rated by Lexpert as most frequently recommended in corporate commercial litigation, and is recognized in class actions, director and officer liability, and securities litigation. He is listed in the Legal Post Best Lawyers in Canada in the areas of securities law, corporate commercial and class action litigation. Ken is listed in Who's Who Legal: Litigation and Who's Who: Legal Product Liability for 2018.  Who's Who Litigation says Ken "is one of Canada's most distinguished silks and litigators."
Ken is the current Second Vice-President of the International Society of Barristers, a Fellow of the American College of Trial Lawyers and a Director of its Canadian Foundation, and a Director of the Advocates' Society. He has been appointed by the Law Society of British Columbia as the civil litigation representative to the Committee on Relations with the Judiciary. He was appointed by the Attorney General of British Columbia to the Supreme Court Rules Revision Committee where he served for many years until the committee disbanded in April 2016.
Ken is the author of the third edition of Sopinka on the Trial of an Action, a leading text on trial practice, including jury trials, published in 2017. He is an adjunct professor of law at the University of British Columbia Law School, teaching its advanced trial advocacy course. He is a past president of the Sopinka Cup Society which hosts the national finals of the Canadian law school trial moot competition in Ottawa and contributes regularly to both the Continuing Legal Education Society of British Columbia and the Advocates' Society on topics related to litigation and arbitration. He chairs a panel of the British Columbia Inns of Court project which was established to foster professionalism among young lawyers.
Outside the courtroom, Ken also acts as both arbitrator and mediator of commercial disputes. He is a co-author of Commercial Arbitration in Canada: A Guide to Domestic and International Arbitrations published by Canada Law Book, annually updated, and which has been cited as authority in judgments across Canada. He is a contributing author to A Practitioner's Guide to Commercial Arbitration, published by Irwin Law in September 2017. He is listed in Expert Guides – Commercial Arbitration for 2018. He is a member of the Chartered Institute of Arbitrators and the Western Canada Commercial Arbitration Society.
Recognition

Queen's Counsel 2004
Benchmark: Top 50 Trial Lawyers in Canada, 2017-2020
Benchmark, Litigator of the Year in British Columbia, 2013-2016 and 2018-2020
Lexpert, Top 500 Lawyers in Canada, 2018
Lexpert, Leading Cross-Border Litigators, 2018
Chambers Canada, British Columbia Dispute Resolution, Band 1, 2018
Best Lawyers in Canada, 2020
Who's Who:  Legal Litigation, 2018
Who's Who:  Legal Product Liability, 2018

Education

LLB, University of British Columbia (1986)

Associations

Fellow, Litigation Counsel of America
President, International Society of Barristers, 2020
Second Vice-President, International Society of Barristers, 2017-2019.
Fellow, International Academy of Trial Lawyers
Member, American College of Trial Lawyers "Legal Ethics and Professionalism Committee"
Fellow, American College of Trial Lawyers.
Director, American College of Trial Lawyers Canadian Foundation
Director, Advocates Society, 2017-2020
Adjunct Professor of Law, University of British Columbia
Member, Canadian Bar Association, British Columbia Branch
Member, Vancouver Bar Association
Session Leader, Inns of Court Project
Member, Committee on Relations with the Judiciary
Member, Canadian Bar Association National Class Action Task Force

Bar Admissions
Notable Cases
Yi Teng Investment Inc. v. Keltic (Brighouse) Development Ltd., 2019 BCCA 357, successful both on application and on appeal on behalf of the defendant developer seeking to discharge a certificate of pending litigation. Both the chambers judge and Court of Appeal concluded that the plaintiff's claim gave rise to no "interest in land".
The Law Society of British Columbia v. A Solicitor
In June 2017, Ken represented the Law Society of British Columbia in professional disciplinary proceedings concerning a lawyer's receipt and disbursement of $26 million from offshore jurisdictions.
Basha Sales Co. Ltd. v. Adera Equities Inc., 2017 BCSC 137
Ken successfully led the defence of a claim by owners of a residential development against the developer and adjacent property owners for additional parking stalls in a shared underground parking facility.
Este v. Esteghamat-Ardakani et al, 2017 BCSC 878
Ken successfully obtained a dismissal of the claim after five weeks of trial as an abuse of process.
Sateri Paper v. Vinall et al, 2017 BCSC 491
Ken successfully led the defence of Fortress Paper Ltd. and Fortress Specialty Cellulose Inc. against a claim alleging knowing assistance in breach of trust, breach of confidence, and inducing breach of contract.
Stewart v. Stewart et. al., 2016 BCSC 2256
Successfully defended an application brought against a national law firm claiming a disqualifying conflict of interest.
Arkansas Teachers Retirement Systems v. Lions Gate Entertainment Corp., 2016 BCSC 432
Ken McEwan, Q.C. and Emily Kirkpatrick successfully defeated a shareholder application to bring a derivative action against current and former directors and officers of Lions Gate.
The Law Society of British Columbia v. Sas, 2016 BCCA 341
Ken McEwan, Q.C. successfully represented The Law Society of British Columbia in professional conduct proceedings relating to the handling of trust funds.
No Limits Sportswear Inc. et al. v. 0912139 B.C. Ltd., 2015 BCSC 1698
Ken successfully brought an insufficient evidence motion when the plaintiffs' case closed after 13 days of trial.
Watson v. Bank of America Corporation, et al, 2014 BCSC 532
Ken acted as counsel for for Capital One Bank (Canada Branch) in an application to certify a class action against the credit card industry in Canada.
Sun-Rype Products Ltd. v. Archer Daniels Midland Company, 2013 SCC 58
Ken McEwan, Q.C. and Eileen Patel represented Cargill, and successfully opposed certification of a class action alleging anti-competitive behaviour in the market for high fructose corn syrup. The case was awarded the National Impact Case of the Year by Benchmark and was one of the top 10 litigation cases of the year as listed by Lexpert
Lee v. Georgia Properties Partnership, 2012 BCSC 1484
Ken successfully led the defence in opposing a certification application in a proposed class action concerning the purchase of development units in the Private Residences at the Hotel Georgia.
View all Ken's cases
News
Ken McEwan, Q.C. and Emily Kirkpatrick successfully represented the appellant/defendants, Terry Hui and Concord Pacific Acquisitions, in overturning a decision on an application to strike the plaintiffs' claim. The... Read more


Ken McEwan, Q.C. and Emily Kirkpatrick successfully represented the appellant on this appeal from the granting of a mandatory interlocutory injunction. The application below was made by one registered... Read more

View all Ken's news