McEwan Partners partners with Moraine Winery to produce branded wine labels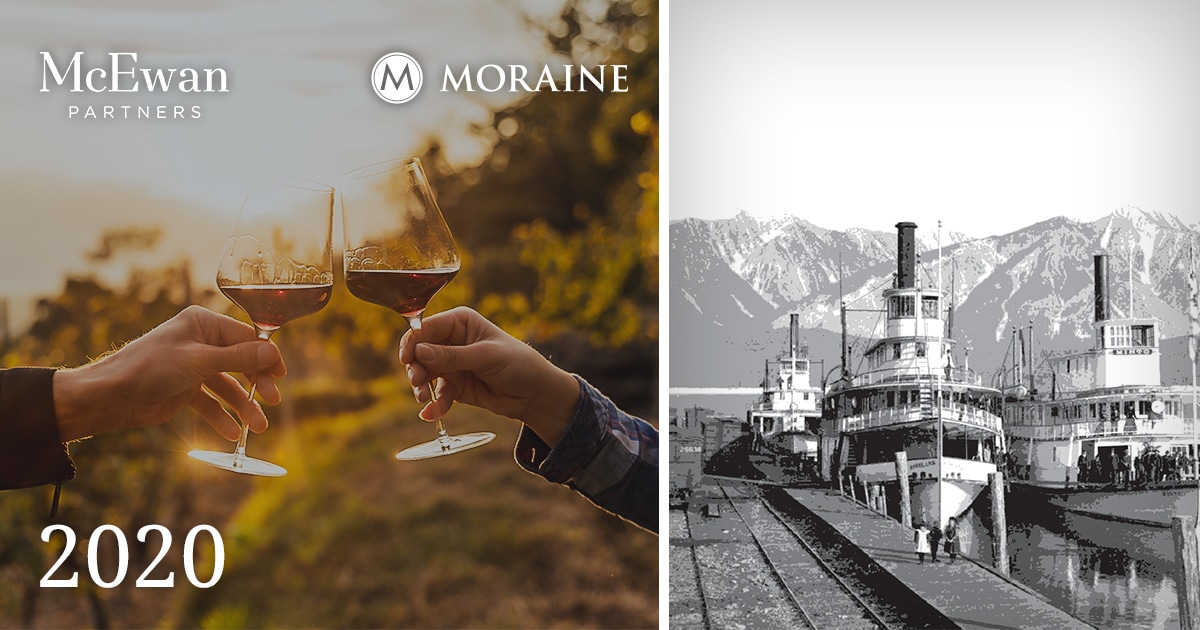 Since its inception in 2017, McEwan Partners has partnered with Moraine Winery for our branded label of their Meritage wine, adding their Cliffhanger White and Frizzante Chipuchka in 2020. Our images show pictures of historic British Columbia on the front, and associated stories on the back.
Meritage Vintage (2018)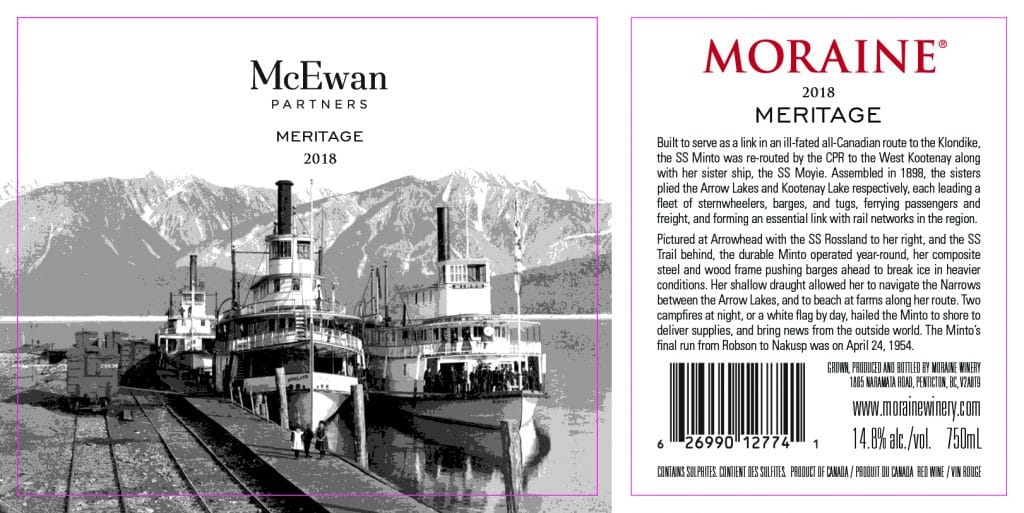 Built to serve as a link in an ill-fated all-Canadian route to the Klondike, the SS Minto was re-routed by the CPR to the West Kootenay along with her sister ship, the SS Moyie. Assembled in 1898, the sisters plied the Arrow Lakes and Kootenay Lake respectively, each leading a fleet of sternwheelers, barges and tugs, ferrying passengers and freight, and forming an essential link with rail networks in the region. Pictured at Arrowhead with the SS Rossland to her right, the SS Trail behind, the durable Minto operated year-round, her composite steel and wood frame pushing barges ahead to break ice in heavier conditions. Her shallow draught allowed her to navigate the Narrows between the Arrow Lakes, and to beach at farms along her route. Two campfires at night, or a white flag by day, hailed the Minto to shore to deliver supplies, and bring news from the outside world. The Minto's final run from Robson to Nakusp was on April 24, 1954.
Cliffhanger White (2019) and Frizzante Chipuchka (2019)


The SS Minto stopped service on the Arrow Lakes three years before her sister ship, the SS Moyie, made her own final journey on Kootenay Lake on April 27, 1957, stopping at towns and landings along the way. In Kaslo, the Moyie was greeted by a banner "Better Lo'ed ye ne'er will be. Will ye no come back again." She remains at Kaslo today, a National Historic Site and the oldest intact sternwheeler in the world. Efforts to preserve the Minto failed. In 1968, the Keenleyside dam, a product of the Columbia River Treaty, reached completion, silencing the Narrows between the Upper and Lower Arrow Lakes, engulfing former townsites including Burton and Arrowhead, and submerging the beaches where farmers had signalled for the Minto with their campfires. On August 1, 1968, the Minto was towed out into Galena Bay where, beneath the towering peaks of the Selkirk range, she was lit ablaze before sinking to the lake bottom below.
McHappy Day
McEwan Partners bought their employees lunch, had some fun and gave back to the community at the same time!