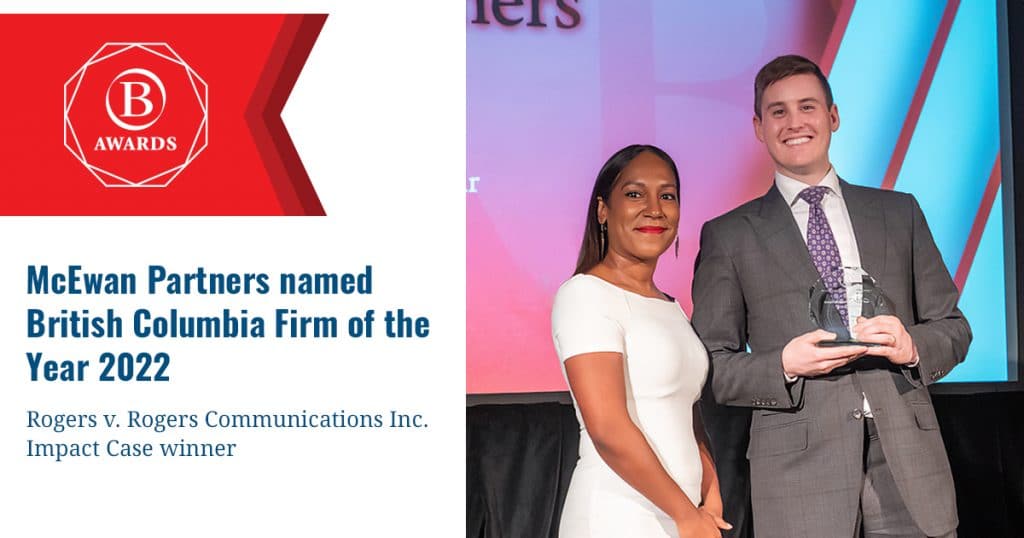 Congratulations to everyone at our firm for supplying the dedication and talent that it took to win British Columbia Firm of the Year at the Benchmark Litigation Canada Awards. In the five years since we founded the firm, and in addition to twice being selected as Canadian Boutique Firm of the Year, this is the third year that our firm has been selected to receive this honour from a field of top-flight litigation firms. It is a reflection of a tremendous team effort to provide the best possible litigation services to our clients. Thank you, everyone.
In addition to BC Firm of the Year, McEwan Partners won an Impact Award for our work in Rogers v. Rogers Communications Inc. The Rogers case marks the first time the courts have considered British Columbia provisions which, while unique in the Canadian corporate context have, American antecedents, including provisions providing for the change of board members in a public company by consent of a super-majority of voting shareholders, the requirements for submitting such resolutions, as well the effect of a dual-class shareholder structure on such issues. Rogers was a highly contentious case with the added dimension of intense media attention. New partner Will Stransky was on the Rogers litigation team, with partners Ken McEwan, K.C. and Emily Kirkpatrick, and collected the Impact Award on the firm's behalf.
View the Benchmark Litigation Canada Award winners here.