Benchmark Canada has named McEwan Partners Canadian Boutique Firm of the Year, an honour McEwan Partners previously won in 2018 and 2019.
For the second consecutive year McEwan Partners has been awarded British Columbia Firm of the Year.  The firm was shortlisted alongside Fasken, Harper Grey, Lawson Lundell and Nathanson Schachter & Thompson.
To view the complete list of awards click here: Benchmark Canada Awards Winners 2021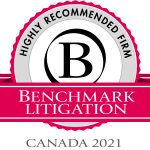 Top 50 Trial Lawyers
Ken McEwan, K.C. and Bob Cooper, K.C. have once again been recognized by Benchmark Litigation Canada as being among the Top 50 Trial Lawyers in Canada 2021.
We are very proud of the accomplishments of all our lawyers and honoured that Emily Kirkpatrick was also singled out by Benchmark Litigation as Future Litigation Stars. The future looks bright.
Click to view the firm's full Benchmark Rankings.