Kelly Ann Maw
Associate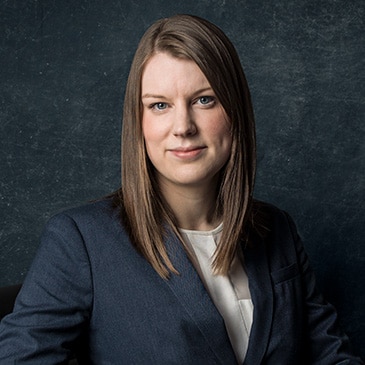 Biography
Kelly Ann Maw maintains a general litigation practice, with a particular focus on civil fraud and commercial litigation.
Kelly Ann has appeared before all levels of court in British Columbia, before the Alberta Court of Appeal and prepared written arguments to the Supreme Court of Canada. She also has experience representing clients in administrative tribunals and in alternative dispute resolution procedures.
Prior to joining McEwan Partners, Kelly Ann practiced at a regional law firm in Vancouver. She has worked on a broad range of files and legal issues including complex commercial and estate disputes, as well as civil and insurance fraud cases. She also has experience with injunctions, anton piller orders, shareholder disputes and bankruptcy and insolvency proceedings.
While at law school, Kelly Ann was elected President of the Students in Law Society and received a number of awards for academic standing and contributions to the Faculty and community, including the Dean's Course Prizes for the top mark in insurance law and for her oral advocacy on the Wilson Moot team. She also holds a B.A. (with Distinction) with a major in Canadian Political Science and a minor in Public Administration.
Education

JD, Thompson Rivers University (2015)
BA, University of Victoria (2012)

Bar Admissions
News
On July 30, 2019 Ken McEwan, Q.C, Laesha Smith and Kelly Ann Maw successfully opposed an application for a mandatory injunction and obtained costs of the application payable forthwith... Read more


Markin v. Fasken Martineau DuMoulin LLP, 2019 BCCA 275 Ken McEwan, Q.C., Emily Kirkpatrick and Kelly Ann Maw were successful in arguing that bond subscription funds did not constitute... Read more

View all Kelly Ann's news